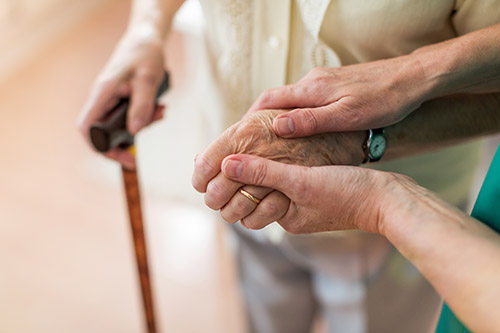 Today's blog post is authored for all of you at-home care providers providing your loved one with senior assisted living or memory care services. This is our way of giving back to the community so that your beloved senior has the best chance of living a safe and happy life.
Home is meant to be a space where we're at our most comfortable. There's a lot that goes into making a comfy home: the right amount of room to move around, decor that reflects your personality, and of course, a space that's safe and secure. For seniors, safety in the home should be a priority, especially because reports have shown that at-home accidents are among the leading causes of fatalities in the U.S.— and that number only increases with age. Luckily, there are some simple tips that can make a space more senior-safe and friendly. Find some of the best ones and make sure safety is always a priority in your home.
Avoid Potential Trip and Fall Hazards
Falls are the most common accidents for seniors at home. No one can predict when they're going to have a dizzy spell, but making sure your home is clear of clutter, stray cords and debris is a great place to start when trying to prevent an accidental fall. Look out for rugs with rubberized backing to help avoid tripping up, wear non-slip footwear and make sure all entryways and high-traffic walkways are completely clear. And make sure you're familiar with tips for falling more safely.
Have Reliable and Accessible Organization
Whether you like to hold onto things or prefer a minimalist space, how you store things can make a world of difference. Items that get daily use should be in an easy-to-access area that doesn't require uncomfortable lifting or bending. Try to give them designated spaces so you don't have to tumble around looking for things that you might need on the spot. It's also wise to have a special spot for important documents, IDs and health records.
Keep Your Bathroom Safe
The most common place for senior accidents in the home is the bathroom. From slipping in the tub to getting burned by hot water, a lot can go wrong in a bathroom. Installing grab bars near the toilet and shower, placing rubber mats in the tub, even including a bathing chair for seated showers can help prevent accidents. A toilet seat with handlebars can also make sitting and standing much easier.
Check for Proper Lighting
A poorly lit space can make accidents more likely, especially for seniors who have a habit of waking in the night to use the bathroom or get a glass of water. Motion-detection lighting or automatic night-lights in the hallway help with nighttime light. In the daytime, incandescent light bulbs are helpful to create a bright space. Having a reading lamp or other lamps near commonly used spaces can help, too.
Fireproof Your Space
Candles can create a nice ambience at home, but it can be easy to forget when you have one lit. Opt for flameless battery candles to achieve the same atmosphere without the fire hazard. For electronics, keep all areas near outlets and cords clutter-free and limit the number or cords plugged into power strips. Make sure smoke and carbon monoxide detectors are always working and replace batteries in a timely manner. During colder months, avoid the use of space heaters and heated blankets, as they're easy to forget about and can be a fire hazard. If you have to use a space heater, keep them far away from curtains, blankets and bedding.
Thanks for reading, and as always, if you have any questions, contact us anytime.